Responsibilities Or Accomplishments?
I have screened thousands of résumés, hell, tens of thousands. And yet, not much has changed. I still see about the same percentage of mistakes as when I started. What mistakes, you might ask? The ones demonstrated by that age-old haunting question–should I list responsibilities or accomplishments?
There are plenty to choose from, but, in my opinion, one of the worst mistakes is listing responsibilities instead of accomplishments.
As I have already mentioned, I have screened more than my fair share of résumés. And in the course of doing that, I have taken note of one thing in particular—most résumés are overladen with responsibilities.
People talk about being…
responsible for…
charged with…
asked to do…
assigned to head up the…
promoted to…
All Of That Is Fine, But We Don't Care.
I know that sounds callous, but it's true. I don't care what you were responsible for. That tells me nothing. Richard Nixon was responsible for running this country and look what happened. People can be responsible for anything. It doesn't mean they were any good at it, or did a good job.
Call me cynical, but when I read a résumé loaded with responsibilities, I immediately grow skeptical. I wonder what the person is hiding. What failure they're trying to cover up.
What Did You Do?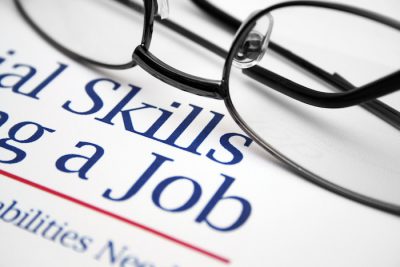 When I pull a new résumé from an inordinately high stack of submissions sitting on my desk, what I want to see are accomplishments, a track record of things that the person did, and ideally, those accomplishments would coincide with the job requirements. If someone were to ask me, which to list, responsibilities or accomplishments, there would be no hesitation–I'd say accomplishments.
Match Up the Skills
If I'm working on an open position for an engineer to design a new smart phone then your experience at successfully leading a team of engineers to re-design the brake system on a new model Lexus is not relevant. You'd be better off relating how ingenuity led to an overhaul of the vehicle's engine control system, using advance microchips for much faster processing.
The whole point is that while neither one of those example are ideal, one is better sounding than the other, and you should tailor your résumé to the job that you're applying for.
Spend the Appropriate Amount of Time Prior to Submitting Your Résumé
What is the appropriate amount of time? That depends on how much you want the job. If the job is important, then dedicate as much time as necessary. But no matter what you do, do not use a tired old résumé that you dragged from a folder on your computer or out of a drawer in your file cabinet. You'e not competing against bozos, and nothing is more apparent than an ill-prepared candidate.
Responsibilities or Accomplishments? What's important? Being relevant.
Take some time and find out what the company needs. It's not always apparent from the job description; in fact, I'll be doing a post about the sorry state of affairs in that department soon. But if it's not clear from the description, then make a few calls, ask people, find out. Then, redo your résumé to reflect a set of skills (assuming you have them) that will match what the company is searching for.
Most gatekeepers and headhunters keep a file listing a key set of requirements close to them. They use this list to compare résumé submittals against. In other words, it's a screening out sheet or list. Like it or not, that's what it is. If you don't have certain traits and characteristics, educational credentials, and work experience, then you're out before you get in.
The only way to circumvent this process is to know what's going to be on that list, and the only way to do that is to research it and prepare. Do it right, and you have a good chance at an interview, which will give you another chance to either fail or shine. The choice is yours. It's up to you to determine what the job is worth.
If you enjoyed this post, please share.
Giacomo Giammatteo is the author of gritty crime dramas about murder, mystery, and family. And he also writes non-fiction books including the No Mistakes Careers series as well as books about grammar and publishing. See the complete list here.
He lives in Texas where he and his wife have an animal sanctuary with 45 loving "friends.