We're going to talk about the dates on your resume. Many of the problems I see with resumes stems from people not knowing what to do and how to list them. Near the end we'll get to the big question—should you include months on a resume?
Dates
I like talking about nothing more than dates. I don't mean the kind we had as teenagers or the kind you eat; I mean the dates on a resume. Why? Because this is where people seem to go hopelessly awry. The sad thing is that this is the easiest part of the resume to get right. All you have to do is learn where to put them—and, tell the truth.
Dates on a resume are like olive forks; there is no special slot for them in the silverware drawer. There are options:
You could put them with the iced-tea spoons.
Or with the espresso spoons.
You could even squeeze them in with the cocktail/shrimp forks.
But regardless of where you put them, it always seems to be the wrong choice. That's because you have options. Having options confuses us, especially when it comes to resumes.
Questions I Get Asked About Dates
Do I put them in the left margin?
Do I put them on the same line as the company, but to the right?
Do I right-justify the date?
How about after each position if there are more than one in a company?
Do I include the months or just the years?
Do I spell out the months? Or use numbers?
Do I include days?
How do I handle gaps in employment?
Fortunately for you, I'm here to take away many of your options.
If you don't align the dates properly, they can be confusing. I prefer the dates of each position to be offset from the dates at each company, like this: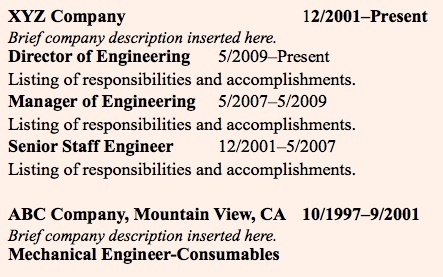 See how clean this looks, and how easy it is for the gatekeeper to glance at the resume and see the progression? Also note that this resume uses numbers for months, and that the dates following each position are in regular font, not bold. You want the dates for the companies to stand out and to be aligned. The dates for each position should be offset and unobtrusive. I have seen people do resumes with the dates on the left margin—and it looks good—but it devours valuable space. I prefer this option.
Gaps
Let's talk about gaps in the work history. This person left ABC in 9/2001 and didn't start at XYZ until 12/2001. Many people would cover up the gap by listing years only. This person did it the right way. If you have a gap—leave it. Show it. Shout it out. It will earn you a red flag, but just one, and you can explain the gap to the gatekeeper when you get the interview. (Remember—along with the red flag, you also earn bonus points for being honest. Trust me; that goes a long way toward getting you the interview.)
Lying has no place in the resume, and resumes are where the lies usually rear their ugly heads, especially about dates. I've seen people leave out jobs, leave off dates, fudge dates, and outright lie about dates. Besides being just not right, when you lie about dates, it's too easy to get caught. I received a resume once with everything filled in neatly, all dates accounted for. I did some checking on Linked-in to see who else I knew that might have worked with this person, and I saw a recommendation from a person who said "worked with Bob at XYZ Company." I was puzzled. Bob's resume didn't show employment at XYZ Company. I did some digging, and, sure enough, Bob was at XYZ for about six months. He just "forgot" to mention it on his resume.
Needless to say, I didn't represent Bob. The sad thing is—and I checked this—his tenure at XYZ wasn't bad. He didn't get fired. He did nothing wrong. It was just one of those circumstances that didn't work out. Perfectly explainable to a prospective employer. Instead, Bob chose to hide it, and it cost him a shot at a good job.
Should You Include Months on a Resume
You should always list the months you worked—not just years.
Many resumes list years only, not months. I know a lot of that comes from bad advice, and I hope that's the primary reason. But in case you're still thinking about it, read the statement below.
Then read it again.
If you don't put months on your dates of employment, you are guilty until proven innocent.
Every gatekeeper and every headhunter I know gets suspicious when they see only years listed on a resume. If your resume shows 1997–2001, and then 2001 to present, the first thing I think is, "Did they leave in January 2001 and start the other job the following December?" It might be wrong to think like that, but it's a fact of life that gatekeepers do. If you don't put the months down, you're assumed guilty. Period. End of discussion. Resume trashed.
The Bottom Line
Have your dates aligned, preferably to the far right.
Show the dates you spent at each company in bold.
Show the dates after each position offset to the left, not bold.
Do not fudge on dates. Show both month and year on each one.
Show any gaps in employment. Be prepared to explain those gaps, but do not try to cover them up.
If you liked this post, please share. And you might consider checking out my book No Mistakes Resumes. You can buy it here, or almost anywhere online. If you really need help, consider our resume services.