How can a cover letter do that? Suppose you want to apply for a position working for a medical device company that designs and manufactures devices for diabetics to monitor their blood sugar. The job description calls for experience that you don't have, but you do have the skills. Don't fret. Great cover letters can overcome your résumé's deficits.
How?
Read on.
The last thing you want to do in this situation is to submit your résumé by itself. There are some so-called experts who advise against cover letters, but I feel they are providing bad advice. A cover letter can only be a detriment if it's a bad cover letter. A well-written cover letter will not hurt your chances of an interview; in fact, it will enhance your chances. Remember, great cover letters can overcome your résumé's deficits.
Here's how.
Analyze the Job Description
Analyze the job description, then analyze it more. You can't know too much about the job, not only for the purposes of writing the cover letter, but for tailoring your résumé, and for the interview that's bound to result from your work of preparing both. (Yes, your résumé should be tailored for each job. See this post for how and why you should do this for every job.) And don't forget, even though you may have tailored your résumé for the job, you should still include a cover letter.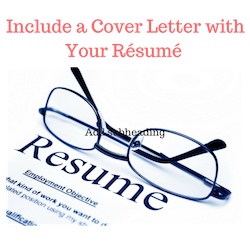 Now that you know all there is about the job description, you can use that information when you tailor your résumé and write your cover letter. Don't include accomplishments that are not relevant to the job at hand. If you saved your previous company millions by orchestrating a quick and efficent move to a new headquarters, it will mean nothing to a company which is planning to stay where they are for years. A savvy résumé screener may be able to discern the skills it required for you to accomplish that task, but don't count on your résumé screener being savvy.
How Else Great Cover Letters Can Overcome Your Résumé's Deficits?
Perhaps the foremost reason to include a great cover letter is to prevent your résumé from being trashed due to a lack of requirements. As I've talked about in many posts, résumé screeners usually have a list of requirements that they use—not to screen "in" but to screen "out" potential candidates.
If the job description calls for a certain degree, and you don't have it, your résumé is off to the trash pile.

If the job description calls for a minimum number of years working in that field or industry, and if you don't have it, your résumé is trash.
There will be other requirements specific to each job description, but the above two are almost universal. A typical list of "screening out" requirements are listed below. These are the requirements for an engineering manager opening.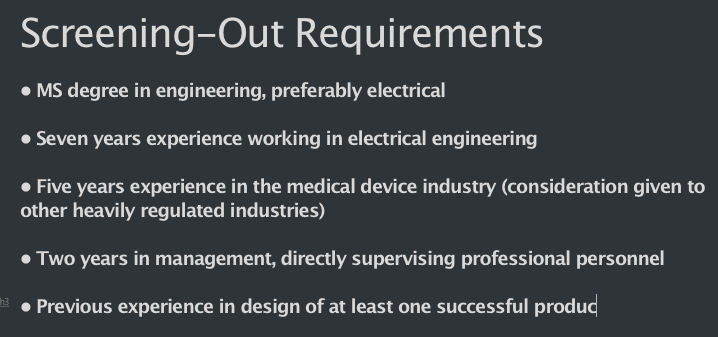 How does this help?
It helps because once you know what the companies are screening out for, you can tailor your résumé and write your cover letter to overcome objections. Show them why it doesn't matter that you don't have a master's degree in electrical engineering, or why it makes no difference that you have fewer than five years experience in the medical device industry. The way to do this is to demonstrate that your experience is relevant, that you're done it before and, therefore, can do it again. If you do a good enough job of persuading them that you can do the job, there is a good chance they will ignore your shortcomings when they read them on the résumé.
Example of How Great Cover Letters Get Interviews
I realize that many of you don't "buy into" this theory, but it works. I've seen it work many times during my work in the headhunting business. I'll provide an example of a cover letter that not only got the person the interview, the person got the job as well. And without it they wouldn't have had a chance.
Talk about standard screening out tools and if you are going to fail to meet them, the cover letter better be persuasive as hell.
Cover letters are typically read first, so you have a chance to sell yourself before your résumé screens you out.
Dear Ms. …
I noticed on LinkedIn that you were looking for a manager of engineering. I could be that person.
Why?
In your job description, you mentioned that you needed someone to run operations for the launch of two new products into a highly competitive market.

I successfully accomplished that in my position at XYZ Company when we brought two new product to market in three years, each winning a dominant market share within six months.

You also mentioned you were looking for someone who is experienced with high-volume manufacturing.

In my current position, I am responsible for four product lines which we manufacture at the rate of more than 50 million units per year, and we do it with a failure rate of 0.73 percent, the best in the industry.

You also asked for a master's degree in engineering.

While I do not have the "asked for education", it has not stopped me from being successful in two previous companies, performing similar jobs.
The following is taken from another post I did on résumé screeners.
Suppose a medical device company is looking for an engineer to design a new blood glucose monitor. This person will need to know how to design high-volume, close-tolerance medical devices with plastic parts.
You want to apply for the position, but you work at a disk drive company, with not a medical device in sight. You need to show them that your experience fits most of their requirements. Here's what you don't do.
Designed revolutionary new disk drive for ultra-thin laptops. New design captured 25% of the market in first 10 months.
Unless the resume screener has a technical understanding of disk drives, they will have no way of knowing that what you did is relevant. Here is what they see.
Image of disk drive | Image of glucose monitor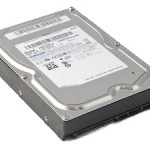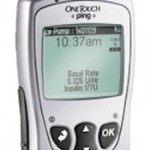 So how do you make them understand?
You Need To Show Them the Inside
The way to do that is to describe your experience differently. Instead of saying…
"Designed revolutionary disk drive for ultra-thin laptops. New design captured 25% of the market in first 10 months."
…try this…
"Designed revolutionary high-volume disk drive for the ultra-thin laptop market. Took advantage of new technology to develop close-tolerance, high-precision plastic parts with zero-tolerance manufacturing.
When you describe your experience in this manner, you are letting the resume screener peek inside the product. So instead of seeing the casing on your disk drive, they see the inside, with all of its intricate parts.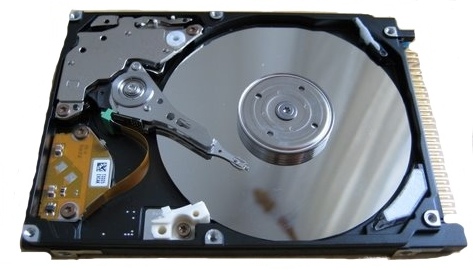 Does this work every time? No. Nothing works every time. But this will give you a better shot than anything else. And if you practice this and learn this as a process for putting your resume together, you'll earn far more interviews.
If you enjoyed this post, please share.
Giacomo Giammatteo is the author of gritty crime dramas about murder, mystery, and family. And he also writes nonfiction books including the No Mistakes Careers series as well as books about grammar and publishing.
When Giacomo isn't writing, he's helping his wife take care of the animals on their sanctuary. At last count they had forty animals—seven dogs, one horse, six cats, and twenty-five pigs.
Oh, and one crazy—and very large—wild boar, who takes walks with Giacomo every day and happens to also be his best buddy.
He lives in Texas where he and his wife have an animal sanctuary with forty-five loving "friends.